A bracelet for many women is more than just a piece of jewelry. Bracelets are not only a way to express yourself, but they also make you fashionable. There are two types of bracelets: bangles or chain bracelets. Chain bracelets come in many different styles and designs as featured on arydpo.com/bracelets. This article will help you choose the right chain bracelet.
Set a budget.
One factor that will determine the charm bracelet you choose is your budget. You can avoid overspending or look beyond your budget by setting financial limits before you start your search. While it is well-known that not everyone can afford the best bracelets, there are plenty of comparable options.
It is best to shop within your budget, but don't rush to purchase a chain bracelet to save a few bucks. You should make sure you get it right the first go and not waste time going to the jeweler because of the cheap clasps or links.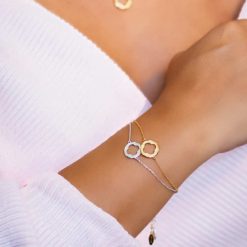 Choose the metal
After setting a budget, you should then choose what type of material you want your bracelet chain to be. Here are some most common materials that are used to make bracelet chains. You can choose anyone according to your taste.
Gold chain bracelets are much more formal than others and their pendants are very formal as well. If you decided to buy a gold bracelet, what you need to keep in mind is that pure gold is extremely malleable and is not very durable. So you'd better choose one in the form of 14 or 18 karat.
Silver chain bracelets are also very formal when compared to other kinds of metal. Like gold chain, silver chain is most often found as an alloy to make it more durable for daily wear. So before making a decision, you need to know that a silver bracelet has to have a 92.5 percent silver composition.